Air Conditioner Installation
Professional AC Installation Services
Every homeowner in Arizona wants their house to stay cool during the warmest months of the year, which is why it's important to have a high-quality air conditioning unit. If you've been thinking about installing a new cooling unit in your home, Heath's Air is here to help you.
Our dedicated team of professionals will make the installation process easy and stress-free, from choosing the unit that matches your home comfort needs to set up your brand-new cooling system. Here are a few things that you need to know about our air-conditioning installation services and how we can help you make sure your home stays comfortable year-round.
The Most Popular Major Brands
Our experience with the most popular air-conditioner brands is one of the best reasons to trust Heath's Air with your next cooling system installation. We know the ins and outs of the top air-conditioner models on the market today, and our owner is even Bosch-certified heating, ventilating, and air-conditioning technician.
When you meet with us, we can tell you about a few of your different system options and their best features, so you'll have the information you need to choose your perfect cooling unit. With us on your side, picking out your next air conditioner will be easier than you've ever imagined.
Sizing Your Air Conditioner
The most important part of choosing your next air unit is making sure that it is correctly sized for your home. When we mention the size of an air conditioner, we're talking about its cooling capacity, not how physically large or small the unit actually is.
If the capacity of your air conditioner is too large, it can result in uncomfortable temperature swings, as your unit will constantly switch on and off. This also results in a lot of wasted energy. On the other hand, a cooling unit with a too-small capacity will have to work extra hard to keep your home cool, which can increase your energy bill.
When you schedule an installation with Heath's Air, we'll perform precise measurements in your home to make sure that your unit is properly sized. With a correctly-sized air conditioner, your home will stay frosty-cool without spiking your monthly energy bills. 
Installing Your Air Conditioner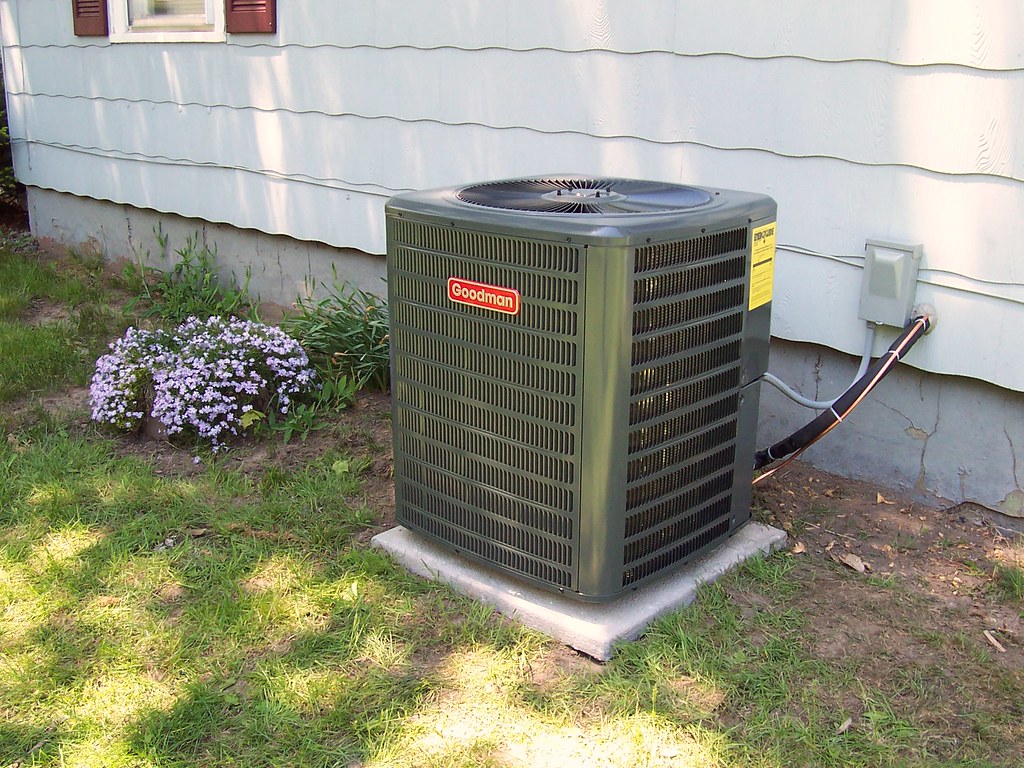 Once we've helped you pick out and purchase your new air conditioner, we'll get started on the installation. Just in case you're not familiar with how air conditioners are installed, let's take a look at some of the installation steps so that you're fully prepared for the process.
Remove the old system. The first thing that we'll do is to remove your old cooling system. We'll remove the outdoor unit, and we'll remove the indoor air handler if you're also replacing that part. Our team will also take precautions to make sure that there is no damage to your home while breaking down your old system.
Inspect the ductwork. Next, we'll make sure that your ductwork is ready for your new air conditioner. We'll fully inspect your ducts, and if we find any leaks, we'll seal them before installation so that they don't impact the performance of your new system.
Get the installation site ready. After getting your ductwork ready, we'll make sure the installation site is ready for your air conditioner. If you already have a concrete slab in your yard, we'll make sure it's in good enough condition for your unit, and if you don't have a slab, we'll lay one down. Once the site is ready, we'll correctly position your air unit and secure it in place.
Connect the indoor and outdoor parts. If you've purchased a new air handler, we'll install it after your outdoor unit has been placed. Now, it's time to connect the indoor and outdoor parts. We'll size your electrical lines, refrigerant lines, and drain piping and then get everything hooked up. Once we connect these lines, we'll connect your thermostat and your air conditioner. Finally, we'll vacuum all lines to make sure there are no contaminants in your system.
Make sure the new system is working properly. With everything hooked up, it's time to turn on your new cooling system for the very first time. We'll make sure that your system is working correctly and that it is cooling your home the way that you want and need. Before we leave your house, we'll inspect the installation to make certain that everything was done correctly.
Schedule Your Installation
If you're ready to upgrade the air conditioner in your home, there's no better solution than working with the team at Heath's Air. We are familiar with the most popular air-conditioning systems on the market today, and we would be more than happy to help you select and install your new system. Our team will get your new air-conditioning unit up and running as quickly and efficiently as possible so that your house will stay cool during the hottest months of the year. Get in touch with us today by using our online service form.
Our Air Conditioning Services
Regular Maintenance
Don't mess with the hassle of figuring out if your A/C unit needs maintenance. We can set up regularly scheduled maintenance.
We don't just install A/C units. Heath's Air also provides full installation of heat pumps and other heating services.
Heater Repair
Bosch, Trane, and Goodman to Carrier, we repair all major heating unit brands.
Regular Maintenance
Need regular maintenance on your heating unit? Heath's Air can set you up on a regular maintenance schedule.
Heath's Air offers a wide variety of emergency services for many of your unexpected needs. Give us a call at 480-809-5548 to schedule a quick service repair or replacement today!
Water Heater Repair & Installation Services
Commercial Services
We are licensed, bonded, and fully insured, and specialize in both residential as well as commercial services.
Get Help From Heath's Air
The next time your HVAC system goes out and repairs simply can't wait until normal business hours, you can call Heath's Air at 480-470-7777 to request emergency services. Our experienced team, including our Bosch-certified owner, can help you with your emergency issue day or night so you can rest easy knowing that your family will be comfortable and safe.